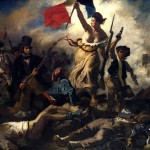 "We stand squarely for free speech and democ­racy", said David Cameron last Wednes­day at Prime Minister's Ques­tions, not more than an hour after the attacks on the French mag­a­zine Char­lie Hebdo. This is a rather strange propo­si­tion for the leader of a party who pro­posed to rein­state the ban on "extrem­ists" from appear­ing on tele­vi­sion and have been try­ing for the past few years to rein­tro­duce the "snooper's char­ter". Indeed, the Tories have gone rather native in the Home Office, in con­trast to five years ago when we were all crit­i­cis­ing Labour for restrict­ing our civil liberties.
Sev­eral hours later, the House of Com­mons then debated a somewhat–but not sufficiently–diluted Counter Ter­ror­ism and Secu­rity Bill, in which Tory and Labour front­benchers alike praised the bill for being an impor­tant tool in the fight against pae­dophiles and ter­ror­ists: the two words that friends of this blog have pre­vi­ously high­lighted as result­ing in uni­ver­sally awful legislation.
After this brief sojourn into hypocrisy, Cameron took a flight to Paris where he stood side-by-side with the world's auto­crats and despots in the name of free speech. Whilst there, he lent his name to an agree­ment for more sur­veil­lance pow­ers. One would think that Charb and his seven col­leagues would not want that in their name. But Cameron went one step fur­ther, and pro­posed the worst idea to reg­u­late a spe­cial­ist field since Labour tried to ban cof­fee eigh­teen months ago: a ban on encryp­tion.